DESSERTS
(10% VAT included)
A SWEETER ENDING
CHOCOLATE FONDANT €8,00
Delicious dessert with the purest chocolate, that grows and grows in the oven.
ALASKA SOUFFLÉ (PREPARATION TIME; 15 MINUTES) €7,50
A base of ice cream, fruits and meringue flambéed with rum. Irresistible¡.
INSTAN APPLE PUFF PASTRY (15 MINUTES) €8,00
Baked right when ordered, so caramelizing sliced apple.
ASTURIAN-STYLE CREAMY RICE PUDDING WITH A CARAMELISED SUGAR TOPPING €7,00
Prepared very slowly to make it creamier, covered with a layer of crunchy caramel.
CRISPY FILLOA CREPES STUFFED WITH PASTRY CREAM €7,50
Sweet and delicate «doilies» with an exquisite custard with a hint of cinnamon and powdered sugar.
TIRAMISÚ €7,50
Typical italian combination of stimulant espresso coffee, Mascarpone cream and the bitter touch of cocoa.
CREPES SUZETTES (MINIMUM 2 PEOPLE) €16,00
Prepared and flambéed on sight, with a subtle hint of orange.
DESSERT CHEESE €8,00
Selection our best cheeses with nuts and fig preserve.
LIGHT AND REFRESHING DESSERTS
PINEAPPLE AND MANGO CARPACCIO €6,50
Fresh and juicy seasonal fruits marinated in their own juices.
HOME-MADE ICE CREAM €6,50
Prepared with fresh milk cream.
DIARY FRESH FRUITS SORBET BEATEN WITH VODKA €7,50
(Lemon, tangerine, red berries…)
WE SUGGEST ACCOMPANYING OUR DESSERT WITH A DELICIOUS WINE
MOSCATEL GRAN FEUDO by Chivite
Glass €5,50
P.X. SÁNCHEZ ROMATE
Glass €5,50
CASTA DIVA MOSCATEL
Glass €6,50
PEDRO XIMÉNEZ TRADICIÓN VOS
Glass €8,50
TOKAY DISZNOKO 4 Puttonyos
Glass €7,50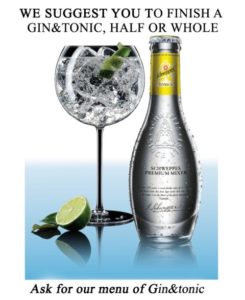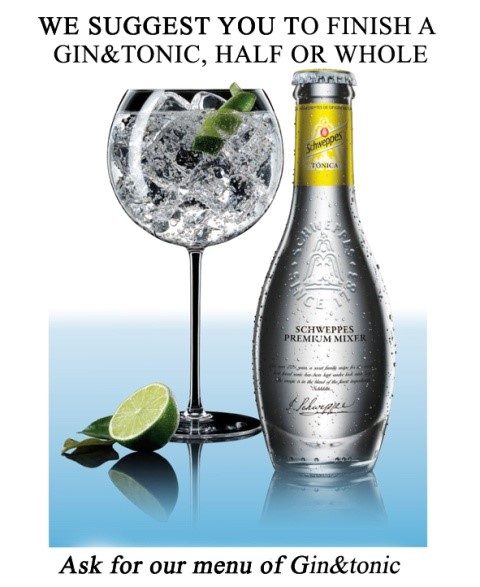 COFFEES
HOUSE SPECIAL COFFEE
Circulo de Oro (Gold Circle) is a natural, supreme coffee, screen 18. A sfoft coffee made of Arabic species with floral aromas and fruity taste. Naturally bitter and longlasting aroma.
€2,50
DECAFFEINNATED BEANS
100 % Colombia, Supreme. Soft and fruity coffee. Minimum caffeine content, under 0,05%.
€2,50
BOMBON COFFEE
With delicious condensed milk.
€3,90
CAPPUCCINO COFFEE
The traditional style, whisk with the vaporizer and sprinkle with ground coffee.
€3,90
VIENNESE COFFEE
Add a shot of Brandy and sugar, served with whipped cream and cinnamon.
€4,50
SCOTTISH COFFEE 
Whisky, coffee and vanilla ice cream.
€6.00
IRISH COFFEE
Whisky and sugar flambé, we add de coffee and top with cream.
€6.00
NATURAL INFUSIONS AND TEAS
CHAMONILE, PENNYROYAL AND LIMEBLOSSOM TEA 
€3,90
WILD BERRIES INFUSION
Fruit infusion without caffeine. Intense cup of berries. Taste of wild berries, currants, blueberries and raspberries. Strong flavor and deep aroma.
€3,90
INFUSIÓN DE ROOIBOS 
A South African origin, this infusion has no caffeine. The properties of the Rooibos are really very good and varied,.. avoid the retention of liquids. improves digestion and is beneficial for the skin. Let is rest for 5 minutes.
€3,90
DARJEELING, BADAMTAM FOP
A black tea from the Indian Himalayas, also known as the campagne of teas. It has a muscatel flavor and a delicate honey color. With or without milk, 2-3 minutes.
€3,90
PU EHR (RED TEA) 
A tea that was traditionally used in Chinese natural medicine, specially due to its digestive, cleansing, and healthy properties, without milk, 3 minutes.
€3,90
BLACK TEA WITH CINNAMON 
Black tea with stick cinnamon. With or without milk, 4 minutes.
€3,90
GREEN TEA WITH VANILLA
Green tea perfumed with vanilla, 2 minutes.
€3,90
JASMINE MONKEY KING 
Semi-fermented tea with Jasmine flowers. The high ratio of Jasmine gives it an intense aroma, 3 minutes.
€3,90
TÉ ENGLISH BREAKFAST 
Mixture of BOP black teas of Ceylan and Assam origin; a strong tea specially formulated to star your day. You enjoy it with milk or lemon.
€3,90